Venue
Fukuyama Station, Bara Park, Midorimachi Park,
The entire city centered on Fukuyama Express Rose Arena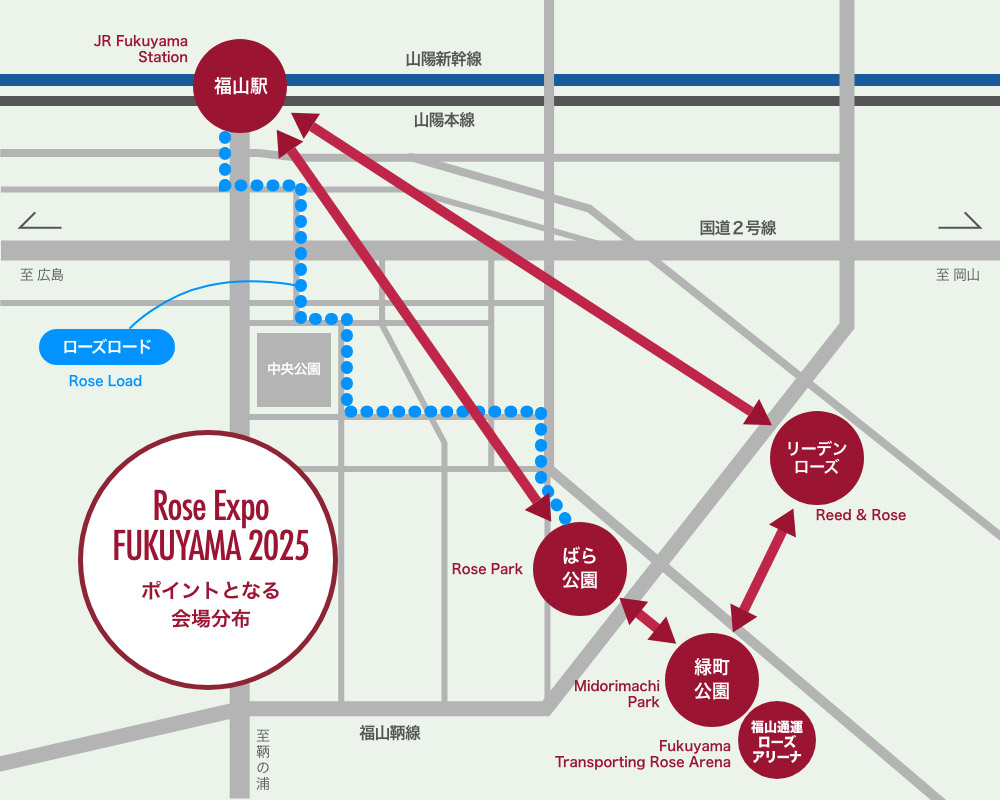 At the key facilities,
Disseminate information that is more clearly tailored to each characteristic
Fukuyama station

A town of 100 million roses produced by Welcome Rose, etc., and an information function provided by the tourist information center

Rose Park / Midoricho Park /Fukuyama Express Rose Arena(Fukuyama City Midoricho Park Indoor Stadium)

Directing a space to enjoy roses
Dissemination of new information about roses
Theme garden, flower artist world, contests, etc.

Leaden Rose(Fukuyama Arts and Culture Hall)

Rose-themed concerts, cultural arts, etc.

Planning a lot of roses in the city

・ Cultural zone centered on Fukuyama Castle Park
・ School rose flowerbeds, local / corporate flowerbeds
・ Maintenance of rose flower beds in front of the city hall, enhancement of rose road, etc.
Rose Park

Directions and Parking
〒720-0803 Hanazono-cho, Fukuyama-shi, Hiroshima 1-5

Midoricho Park

Directions and Parking
〒720-0804 Midorimachi, Fukuyama City, Hiroshima Prefecture 9-5
Rose Expo